Corporate Social Responsibility Policy
of Sanwa WINGS
Our Visions of Sustainability
To create harmony with people, society and nature, Sanwa WINGS will always remain a responsible stakeholder in the grand scheme of taking the right environmental initiatives.
Our Corporate Philosophy
Kind to the Mother Earth,
and to all that lives on Earth.
Our Corporate Aspirations
Connecting the people,
the nature,
the society and the future.
As an OEM/ODM company of cosmetics and framed soaps, looking after the nature, the people and embracing the natural beauty and sustainability has always been our goal.
We are in a time of numerous social and ecological crisis such as the climate change, depletion of natural resources and social inequalities. In year 2015 the Sustainable Development Goals (SGDs) has set goals and ideologies for the society, and at Sanwa WINGS it is our responsibility to execute such beliefs as much as we possibly can.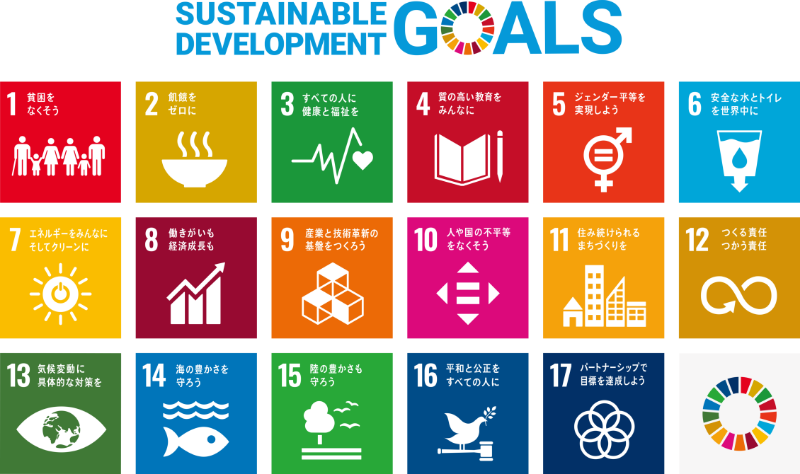 SDGs From Sanwa WINGS
The SDGs were set up in 2015 by the United Nations General Assembly and all Goals are intended to be achieved by 2030.
Poverty, hunger, well-being and educations are all essential in achieving equality. Nevertheless, taking immediate actions on climate changes is urgent and critical to preserve our eco-system. And SDGs paves the pathways to a responsible and better future. Sanwa WINGS may be a small-factor in impacting the whole eco-system but we are keen on achieving the goals and standards that are established.
Our CSR Initiatives
to our Clients

We believe in the fundaments of providing the most reliable and tested product to our partners.
It is our awareness toward the law, the social and business responsibilities that drives us.
to our Existing Business Partners




We believe in mutual trust, respect and transparency. All trades and exchanges will be conducted in legal, fair and courteous manners.
to our Employees



Sanwa WINGS fulfils its CSR by actively reaching out to employees and cultivating a harmonious working environment that is mutually beneficial to the employer and employees. Labor-management meetings are held at regular intervals for labor-management negotiations and to discuss labor issues.
our Community Engagements





Throughout our business operations, we have actively engaged in green consumerism and environmental sustainability. It is our goal to contribute not only to the communities but also to the surrounding ecological environment.
our stance toward Eco-System





We optimize energy consumption through technology and management to reduce the carbon footprints. Achieve circular economy value and extended applications into account. At Sanwa, we know Innovation and adaptation is the key toward achievable sustainability.
CSR Practices at Sanwa WINGS and Results
・Facilitating and Adopting Energy Sufficient Systems
Reduces greenhouse effect, carbon emission and energy consumption by adopting to systems and equipment that operates at high energy efficiency. We also take the basic and responsible measures of cutting unnecessary waste and expenditures.
・Categorizing waste and Manufacturing Smart
Recyclability is greatly improved through smarter management and monitoring of manufacturing. It allow us to methodically suppress and categorize waste produced.
・Greening Facility Planning
We implement green plantation projects and altering our architecture to enhance our green credentials.
・Implementing Chemical Safety Assessment
Our strict quality control aims to carefully evaluate the influences and harms of all the ingredients we use. It is vital to minimalize and prohibit damages to our eco-system.
Risk Management and BCP
Sanwa ensures solid business management by implementing risk management system. We respond correspondingly to risks as required for business continuity.
Risks Factors in Business Continuity
Natural disasters
Legal governance and compliances
Research and Development activities
Environmental factors
Labor conditions
Accidents and happenings
Sanwa WINGS has established standard operation procedures on various recovery plans that will be executed accordingly to different risks. Drills are held on annual basis to ensure our people are trained and knowledgeable.